from Day by Day with the Persecuted Church

If we are distressed, it is for your comfort and salvation. (2 Corinthians 1:6)
Joseph Ton
What Paul wants to say is that I am suffering for your salvation.
To illustrate this, we must go back to the time when Romania was still suffering under Communism. In Joseph Ton's church, one Christian was a manager in a big factory. As a consequence of his conversion, all employees of the factory were called together by the Communist Party to witness his degradation from manager to the lowest job in the factory. "How should I defend myself?" he asked Joseph. "Don't defend yourself at all," Joseph advised him, "you'd use the time they give you to defend yourself better, by telling them who Jesus is and what He means to you."
It was really impressive how he bore witness of his Savior in front of all those people. Afterwards, he was degraded and his salary lowered accordingly. But his faith was rewarded. His suffering brought salvation to other people, for later on, he told Joseph, "Everywhere in the factory, people take my hand and ask me to tell them about Jesus. Many of them ask me to get them a Bible."
Because this brother was prepared to suffer for his Lord, other people were saved. Those who are prepared to pay the price (status, salary, defamation) will be a blessing to others and will also receive God's prize: eternal life.
Joseph Ton from Romania. Joseph Ton describes a number of spiritual principles of God's faithfulness despite suffering. Edited with permission from the Dutch booklet entitled Lessen in Lijden.
Copyright [C] 1995 Open Doors International. Used by permission.
Click here to sign up for a free monthly newsletter from Open Doors about persecuted Christians.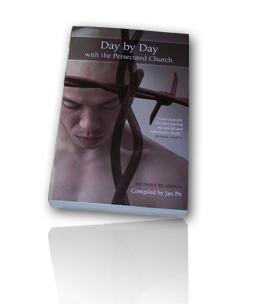 Day by Day with the Persecuted Church
compiled by Jan Pit with a forward by Brother Andrew (paperback, revised 2000)
Compelling wisdom from the pen of actual believers living amidst persecution, you'll be connected to the suffering, courage, and depth of life that exists in the harshest places in the world. Each of these 365 thought-provoking devotions will deepen your understanding of Christian persecution and provoke you to pray for our brothers and sisters with a new found depth.