from Day by Day with the Persecuted Church

You will know the truth and the truth will set you free. (John 8:32)
Joseph Ton
Hardly anyone in Eastern Europe believes in Marxism. The real Marxists live in the West. A friend of Joseph Ton in Moscow once told him, "Marxism was pure deception, but what is the alternative?" Many people know what they don't believe, but they don't know what they do believe. What they are really saying is this, "We tried Satan's lies and we got hell. We now know that we were deceived, but what is truth?"
Lies enslave people, but the truth always sets you free. The world tells our young people, "Why shouldn't you be free to do anything you like? Why shouldn't you live it up?" And young people say, "Yes, I want to be free." But soon they discover they are not free at all. They have become slaves to all kinds of bad habits. Satan promises freedom, but enslaves people. His sole aim is to destroy our personality.
God's truth really sets us free. "So if the Son sets you free, you will be free indeed" (John 8:36). It is a freedom that is real and lasting. Forever. Through the Son - Jesus Christ - the Savior.
Joseph Ton from Romania. Joseph Ton describes a number of spiritual principles of God's faithfulness despite suffering. Edited with permission from the Dutch booklet entitled Lessen in Lijden.
Copyright [C] 1995 Open Doors International. Used by permission.
Click here to sign up for a free monthly newsletter from Open Doors about persecuted Christians.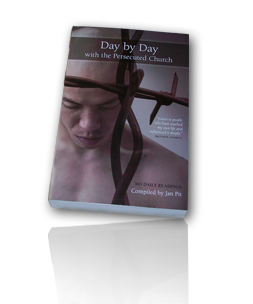 Day by Day with the Persecuted Church
compiled by Jan Pit with a forward by Brother Andrew (paperback, revised 2000)
Compelling wisdom from the pen of actual believers living amidst persecution, you'll be connected to the suffering, courage, and depth of life that exists in the harshest places in the world.  Each of these 365 thought-provoking devotions will deepen your understanding of Christian persecution and provoke you to pray for our brothers and sisters with a new found depth.
 To order your copy of this devotional, click