from Day by Day with the Persecuted Church

Is anything too hard for the Lord? (Genesis 18:14)
From the lips of children and infants you have ordained praise. (Psalm 8:2)
Open Doors Contact Person
Although the Russian government no longer persecutes Christians for their faith, some believers still suffer for confessing Jesus Christ.
In April 1992, a twelve-year old boy, Volodya, experienced the following:
"I heard about the church meetings on Karl Marx Street and went there because I wanted to know more about God. When I was told that Jesus loves children as well I asked him to love me too. When I told my mother, she was very upset and angry. She told me that God does not exist. I was beaten every time I went to church. But I still went. Then one day my mother decided to join me so she could talk to the pastor and tell him not to let me go to church any more. But I took her to the pastor on a Sunday so she would have to listen to his preaching first. As she sat there, something happened, she started to cry almost uncontrollably. She realized her need for God ... and asked the pastor to pray for her. Now we go to church together."
May you be encouraged today, as you pray for members of your own family. If a twelve-year old boy dares to take such a stand for Christ why not you today? God will honor such a commitment. "Is anything too hard for the Lord?"
Copyright [C] 1995 Open Doors International. Used by permission.
Click here to sign up for a free monthly newsletter from Open Doors about persecuted Christians.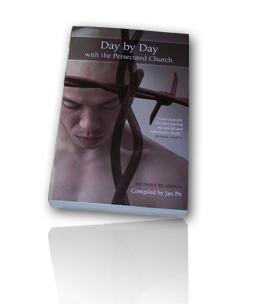 Day by Day with the Persecuted Church
compiled by Jan Pit with a forward by Brother Andrew (paperback, revised 2000)
Compelling wisdom from the pen of actual believers living amidst persecution, you'll be connected to the suffering, courage, and depth of life that exists in the harshest places in the world. Each of these 365 thought-provoking devotions will deepen your understanding of Christian persecution and provoke you to pray for our brothers and sisters with a new found depth.