from Day by Day with the Persecuted Church

For he will command his angels concerning you to guard you in all your ways; they will lift you up in their hands, so that you will not strike your foot against a stone. (Psalm 91:11-12)
Oswaldo Magdangal
In Saudi Arabia, when they flog you, the most painful lashes are those given under the feet. After the flogging, they force you to stand up, but because of the pain in the feet it is impossible to do so. When Brother Wally had undergone this torture, the pain was unbearable. He said, "I began to feel sorry for myself and begged the police not to make me stand up. I was down on my knees before them, for I could not stand up." But the police forced him, although it was impossible.
Brother Wally, "Suddenly I recalled Psalm 91 verses 11 and 12, just like that, in the midst of all this pain. It was the Holy Spirit who reminded me of these words. "For he will command his angels concerning you ... they will lift you up in their hands..." And that was exactly what the Lord did for me. I was able to stand up, hands and feet chained - but I didn't feel any pain. The police were flabbergasted. How could someone who just begged them to let him lie down be able to stand up all of a sudden? Angels had lifted me up in their hands. They could not see them, but I felt they were there. They were carrying me.
"Praise be to the Lord, to God our Savior, who daily bears our burdens" (Psalm 68:19).
Oswaldo Magdangal from Saudi Arabia. This Filipino brother ministered in Saudi Arabia where he testified of his Savior even while being threatened with hanging.
Copyright [C] 1995 Open Doors International. Used by permission.
Click here to sign up for a free monthly newsletter from Open Doors about persecuted Christians.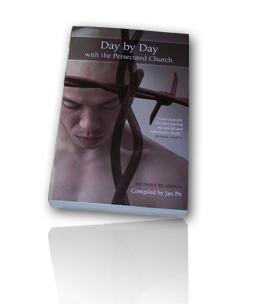 Day by Day with the Persecuted Church
compiled by Jan Pit with a forward by Brother Andrew (paperback, revised 2000)
Compelling wisdom from the pen of actual believers living amidst persecution, you'll be connected to the suffering, courage, and depth of life that exists in the harshest places in the world. Each of these 365 thought-provoking devotions will deepen your understanding of Christian persecution and provoke you to pray for our brothers and sisters with a new found depth.