from Day by Day with the Persecuted Church

For Christ's love compels us, because we are convinced that one died for all ... And he died for all, that those who live, should no longer live for themselves but for him...' (2 Corinthians 5:14-15)
Remarkable Remarks
Reaching Out
Augustine; Church Father 354-430 AD:
"Without God - we cannot
Without us - God will not."
Accad - Lebanon:
"All efforts to evangelize the Arabs have failed, simply because we failed to love them."
Somebody:
"God never gives a task without the ability to accomplish it; When He calls, He enables; When He appoints, He anoints."
Brother Andrew: commenting on Acts 17:6 (RSV)
"As long as there is one Christian in prison for his faith in Jesus Christ, I am not free."
William Temple:
"The Church is the only organization in the world that exists only for the benefit of non-members."
Copyright [C] 1995 Open Doors International. Used by permission.
Click here to sign up for a free monthly newsletter from Open Doors about persecuted Christians.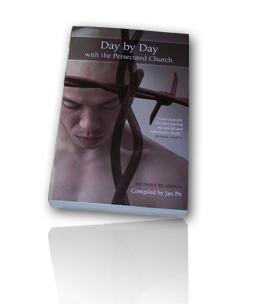 Day by Day with the Persecuted Church
compiled by Jan Pit with a forward by Brother Andrew (paperback, revised 2000)
Compelling wisdom from the pen of actual believers living amidst persecution, you'll be connected to the suffering, courage, and depth of life that exists in the harshest places in the world. Each of these 365 thought-provoking devotions will deepen your understanding of Christian persecution and provoke you to pray for our brothers and sisters with a new found depth.