from Day by Day with the Persecuted Church

The one who calls you is faithful and he will do it. (1 Thessalonians 5:24)
Moses
God had prepared Moses to lead his people out of Egypt, but was he willing to accept the task? No, he was not. Five times he argued with God. Five times God gave him a promise. Forty years before, Moses was so self-confident that he was convinced he could deliver Israel in his own strength.
Now he felt inferior and unqualified. He told God that he lacked prestige. "Who am I?" That he lacked a message, "What shall I tell them?" He was convinced that the people would not believe him, "The Lord did not appear to you." He presented God with a long list of disabilities. But instead of winning God's approval, God became angry with Moses. God always will, when His children limit Him, merely because they feel unqualified.
"Not that we are competent in ourselves ... but our competence comes from God" (2 Corinthians 3:5). When He calls He enables. No reason to complain - every reason to trust.
When I try, I fail. When I trust, He succeeds.
Copyright [C] 1995 Open Doors International. Used by permission.
Click here to sign up for a free monthly newsletter from Open Doors about persecuted Christians.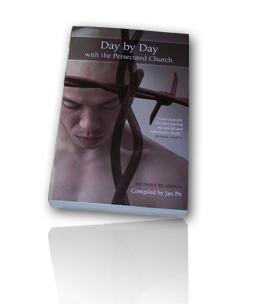 Day by Day with the Persecuted Church
compiled by Jan Pit with a forward by Brother Andrew (paperback, revised 2000)
Compelling wisdom from the pen of actual believers living amidst persecution, you'll be connected to the suffering, courage, and depth of life that exists in the harshest places in the world. Each of these 365 thought-provoking devotions will deepen your understanding of Christian persecution and provoke you to pray for our brothers and sisters with a new found depth.