from Day by Day with the Persecuted Church

When they came to Marah, they could not drink its water because it was bitter. (Exodus 15:23)
Then they came to Elim, where there were twelve springs and seventy palm trees, and they camped there near the water. (Exodus 15:27)
Moses
If I were to sum up the situation of the suffering church I would use the two above mentioned verses. Hardship, defeat, persecution and bitterness on the one side, and provision, victory, and springs of living water on the other side.
Is this not a picture of our walk with God as well? Beside each bitter Marah pool there grows a tree. When that tree is cast into the water, the bitterness changes into sweetness. A beautiful picture of the cross of Jesus, symbol of redemption and salvation.
Praise God, there are more Elims in life than Marahs. No desert march without palm trees and springs at last. We may stay at Elim for a while. To be refreshed and strengthened God permits disappointments (Marah) but also gives plenty of surprises (Elim).
Where are you today? Remember, even at Marah there is the tree of life. And in between Marah and Elim we find these wonderful words: "...If you listen carefully to the voice of the Lord your God and do what is right in his eyes, if you pay attention to his commands and keep all his decrees, I will not bring on you any of the diseases I brought on the Egyptians, for I am the Lord, who heals you." (Exodus 15:26)
Copyright [C] 1995 Open Doors International. Used by permission.
Click here to sign up for a free monthly newsletter from Open Doors about persecuted Christians.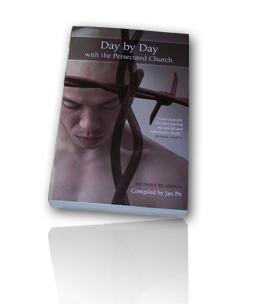 Day by Day with the Persecuted Church
compiled by Jan Pit with a forward by Brother Andrew (paperback, revised 2000)
Compelling wisdom from the pen of actual believers living amidst persecution, you'll be connected to the suffering, courage, and depth of life that exists in the harshest places in the world. Each of these 365 thought-provoking devotions will deepen your understanding of Christian persecution and provoke you to pray for our brothers and sisters with a new found depth.