from Day by Day with the Persecuted Church

In the desert the whole community grumbled against Moses and Aaron. The Israelites said to them, "If only we had died by the Lord's hand in Egypt. Then we sat round pots of meat and ate all the food we wanted, but you have brought us out into the desert to starve this entire assembly to death." (Exodus 16:2, 3)
Moses
We may stay at Elim for a while, but we may not live there. We need to move on to the Promised Land. "The whole Israelite community set out from Elim and came to the Desert of Sin, which is between Elim and Sinai" (Exodus 16:1). There are certain spiritual lessons which cannot easily be learned at Elim, they need to be learned in the desert of life: that God can supply all our needs whatever they may be, wherever we are.
When the Israelites had no more food to eat they grumbled against Moses and Aaron, yes, against God. They said things they should never have said. Unfortunately, we often do likewise during times of grumbling. Unbelief has a short memory. They remembered the food in Egypt, but forgot the lashes of the Egyptians. They forgot how they had cried to God for help. They forgot God's miracles, the great Exodus, the miraculous walk through the Red Sea, the refreshing stay at Elim, just a couple of days ago. Alas, unbelief has a short memory.
Praise God. He has endless patience. He provided miracle food, manna, enough for every day. Whenever a grumbling fit threatens you, review the past and recount the Lord's deliverance in years gone by. Did He supply in the past? He will do so in the future. Because He is the "I AM."
Copyright [C] 1995 Open Doors International. Used by permission.
Click here to sign up for a free monthly newsletter from Open Doors about persecuted Christians.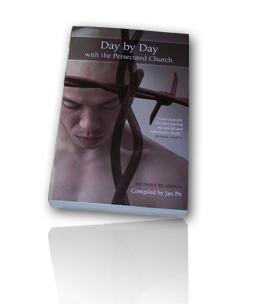 Day by Day with the Persecuted Church
compiled by Jan Pit with a forward by Brother Andrew (paperback, revised 2000)
Compelling wisdom from the pen of actual believers living amidst persecution, you'll be connected to the suffering, courage, and depth of life that exists in the harshest places in the world. Each of these 365 thought-provoking devotions will deepen your understanding of Christian persecution and provoke you to pray for our brothers and sisters with a new found depth.