from Day by Day with the Persecuted Church

You will fill me with joy in your presence. (Psalm 16:11)
Horacio Herrera
Thirty years of labor for God in an atheistic country have taught me a secret. For that bad hour, that dark night, that gloomy day, that time of temptation, that moment of trial and those years of persecution ... just one moment in His presence will compensate for all. The presence of God makes us conscious that everything worldly is trivial, and temporary.
After "Marah" (place of bitter water) there will always come an "Elim" (an oasis) where the bitterness of hardship will be changed in the sweetness of His presence. After the desert of terrible trials will come the Canaan , a land of flowing with milk and honey.
It reminds me of a song we often sang in our church. It has been present in my soul for all these years and I hope to live it till the end of my days, "We will be faithful to the one that bought us with His blood. We will follow Christ, even if a thousand voices all around us call. If the road is full of thorns and the cross is heavy, a moment in His presence will compensate for all."
Horacio Herrera from Cuba. Because of his leading role in the Cuban Church, he writes using a pseudonym.
Copyright [C] 1995 Open Doors International. Used by permission.
Click here to sign up for a free monthly newsletter from Open Doors about persecuted Christians.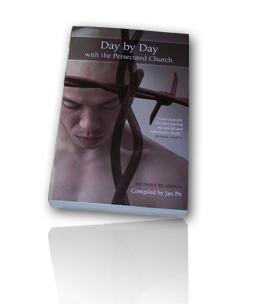 Day by Day with the Persecuted Church
compiled by Jan Pit with a forward by Brother Andrew (paperback, revised 2000)
Compelling wisdom from the pen of actual believers living amidst persecution, you'll be connected to the suffering, courage, and depth of life that exists in the harshest places in the world. Each of these 365 thought-provoking devotions will deepen your understanding of Christian persecution and provoke you to pray for our brothers and sisters with a new found depth.