from Day by Day with the Persecuted Church

Blessed are you when people insult you, persecute you and falsely say all kinds of evil against you because of me.
Come you who are blessed by my Father; take your inheritance ... for I was hungry and you gave me something to eat...(Matthew 25:34-35)
Sister Maria
In these scriptures I see an inseparable bond. Blessed are the persecuted and ... blessed are those who help the persecuted.
Although there were times, when in prison, that I doubted God's love, many opportunities arose when my faith was strengthened again and again through the support of other people. Their good deeds came spontaneously, because they loved the Lord ... and me.
It reminded me of Paul's words, "If one part suffers, every part suffers with it; if one part is honored, every part rejoices with it."
If your leg is injured, you are supplied with a crutch. Without that crutch you cannot walk. In our walk with the Lord, one may be persecuted, but another supports and strengthens.
We need one another, and thus we fulfill the law of Christ. In doing so we all will be blessed, because, "he who refreshes others will himself be refreshed."
Sister Maria from Mozambique. She had been imprisoned under severe circumstances. Sister Maria uses a pseudonym.
Copyright [C] 1995 Open Doors International. Used by permission.
Click here to sign up for a free monthly newsletter from Open Doors about persecuted Christians.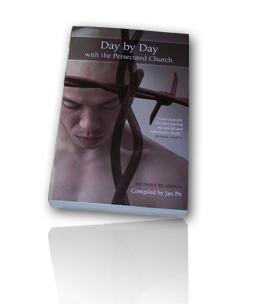 Day by Day with the Persecuted Church
compiled by Jan Pit with a forward by Brother Andrew (paperback, revised 2000)
Compelling wisdom from the pen of actual believers living amidst persecution, you'll be connected to the suffering, courage, and depth of life that exists in the harshest places in the world. Each of these 365 thought-provoking devotions will deepen your understanding of Christian persecution and provoke you to pray for our brothers and sisters with a new found depth.