from Day by Day with the Persecuted Church

Then I heard the voice of the Lord saying: "Whom shall I send? And who will go for us?" (Isaiah 6:8)
Brother Jacob
I was very burdened by the problems of my people who suffered so much under a communist government. Pastors were executed, Bibles were burnt and many Christians thrown into prison.
I decided to visit the Christians in some remote areas, to encourage them and give them new Bibles. I had to travel by car to a remote area in a convoy, because it was too dangerous to travel alone. At a road block the convoy was stopped. Some armed soldiers came up to my car and arrested me. Everything was confiscated - my car, my personal belongings, my money and all the Bibles.
The soldiers put me into an army vehicle and took me to prison. My first question was, "But Lord, why me? I want to serve you, but how can I serve you in prison?" Then I remembered a meeting I had had with some pastors in that part of the country. They were burdened with the many people in prison. We decided to pray and ask the Lord to burden someone with a love for these people and to send such a person to them with the Gospel of salvation.
Little did I realize at that time that I was to be the man to bring them the Gospel.
We can become the answer to our own prayers. Are you willing?
Brother Jacob from Mozambique. He and Open Doors work closely together.
Copyright [C] 1995 Open Doors International. Used by permission.
Click here to sign up for a free monthly newsletter from Open Doors about persecuted Christians.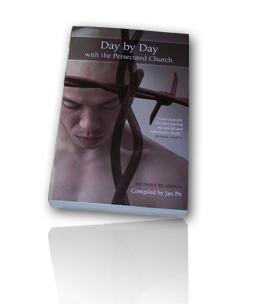 Day by Day with the Persecuted Church
compiled by Jan Pit with a forward by Brother Andrew (paperback, revised 2000)
Compelling wisdom from the pen of actual believers living amidst persecution, you'll be connected to the suffering, courage, and depth of life that exists in the harshest places in the world. Each of these 365 thought-provoking devotions will deepen your understanding of Christian persecution and provoke you to pray for our brothers and sisters with a new found depth.