from Day by Day with the Persecuted Church

...but those who hope in the Lord will renew their strength. They will soar on wings like eagles; they will run and not grow weary, they will walk and not be faint. (Isaiah 40:31)
Train a child in the way he should go, and when he is old he will not turn from it. (Proverbs 22:6)
Caleb
This typifies the life of Caleb. When he was young he had the courage to stand alone. In middle-age he had the patience to walk alone with his God. In old-age he had the strength to climb mountains.
The foundation was laid in his youth. He was courageous enough to stand up for his faith. He was not intimidated by the unbelieving masses. Not even when they threatened to stone him. Rather be dead than a coward. Rather be obedient to God than be popular with men.
It did mean that at the age of forty, he had to wander around in the desert for forty years, as a result of the unbelief of the people. Maybe Caleb often said to himself during those years, "Forty lost years in the desert and it was not necessary."
Yet he was patient enough to wait on God's promise and he continued to walk with his God. After that, when his years increased, he did not move downhill but uphill. And that, at the age of eighty-five.
In which phase of your life do you find yourself today? In your youth? Then be steadfast in obedience. In your middle years? Be patient and continue to trust. In old age? Be strong in your faith. You can still be of great value to the Kingdom of God.
Caleb was strong at the age of eighty-five. For those who wait upon the Lord will renew their strength.
Copyright [C] 1995 Open Doors International. Used by permission.
Copyright [C] 1995 Open Doors International. Used by permission.
Click here to sign up for a free monthly newsletter from Open Doors about persecuted Christians.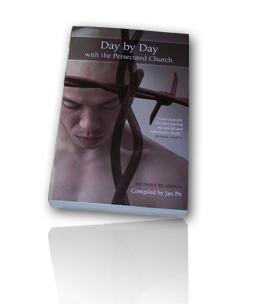 Day by Day with the Persecuted Church
compiled by Jan Pit with a forward by Brother Andrew (paperback, revised 2000)
Compelling wisdom from the pen of actual believers living amidst persecution, you'll be connected to the suffering, courage, and depth of life that exists in the harshest places in the world. Each of these 365 thought-provoking devotions will deepen your understanding of Christian persecution and provoke you to pray for our brothers and sisters with a new found depth.