from Day by Day with the Persecuted Church

Seventy-seven times. (Matthew 18:22)
Grace Dube
A couple of years after my husband died my son and I were singing in a meeting in Soweto. We gave our testimony about the hurt and about God's provision. There was a wonderful spirit in that meeting. We sang our love-song again. "Father forgive them..."
The audience was listening spellbound. Then I was asked to speak. I read from Matthew 18:21-22, "Lord, how many times shall I forgive my brother when he sins against me? Up to seven times?" Jesus said to him, "...seventy-seven times."
I spoke for some time and then I invited people to accept the Lord Jesus as their Savior. Some people came forward and asked me to pray for them. One man however hesitated. He seemed to be scared. I encouraged him to tell me what was bothering him so much. He said, "I need your Jesus, I need forgiveness. I ... I was one of the mob who killed your husband." I was trembling, scared, confused. What should I do? Singing, Father forgive them, is one thing, but now ... Then the Lord must have touched me, deeply, very deeply. Because He gave me strength and courage to put my arms around the killer, and forgive him - as Jesus forgives us. 
"You are now my brother," I whispered. He left a brand new person. And so was I.
Grace Dube from South Africa. Her husband was stabbed to death. She continues to preach his message of forgiveness.
Copyright [C] 1995 Open Doors International. Used by permission.
Copyright [C] 1995 Open Doors International. Used by permission.
Click here to sign up for a free monthly newsletter from Open Doors about persecuted Christians.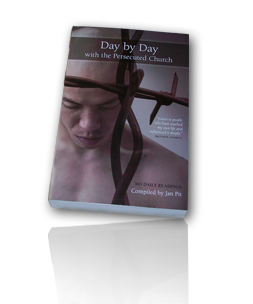 Day by Day with the Persecuted Church
compiled by Jan Pit with a forward by Brother Andrew (paperback, revised 2000)
Compelling wisdom from the pen of actual believers living amidst persecution, you'll be connected to the suffering, courage, and depth of life that exists in the harshest places in the world.  Each of these 365 thought-provoking devotions will deepen your understanding of Christian persecution and provoke you to pray for our brothers and sisters with a new found depth.
 To order your copy of this devotional, click