from Day by Day with the Persecuted Church

Bless those who curse you, pray for those who ill-treat you. (Luke 6:28)
Irina Ratushinskaya
Almost every demand from Christ seems impracticable. If we, however, want to follow the Lord, then there is no other way. More than once I experienced this from the KGB prisons.
The response of the world to the tormentors of the KGB is hatred, and every hour, the KGB gives more reasons to hate them. But I soon noticed that if I hated them as well, I would be eaten up from within. I have seen fellow prisoners so filled with hatred that they lost their mind and so destroyed their personality. And that's exactly what the KGB wants.
How should we as Christians control these feelings? Christ commanded us to cast out hatred by love. That is not easy. This demand by Christ seems impracticable. But there is no other way.
"Pray for those who mistreat you." Such a prayer may save them, but in any case it will save us.
Writer for the month - Irina Ratushinskaya from Russia was imprisoned for seven years in a labor camp. She has written about her experiences in a moving book entitled Grey is the Colour of Hope published by Sceptre Books, 1989.
Copyright [C] 1995 Open Doors International. Used by permission.
Click here to sign up for a free monthly newsletter from Open Doors about persecuted Christians.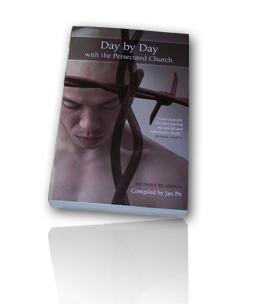 Day by Day with the Persecuted Church
compiled by Jan Pit with a forward by Brother Andrew (paperback, revised 2000)
Compelling wisdom from the pen of actual believers living amidst persecution, you'll be connected to the suffering, courage, and depth of life that exists in the harshest places in the world. Each of these 365 thought-provoking devotions will deepen your understanding of Christian persecution and provoke you to pray for our brothers and sisters with a new found depth.