from Day by Day with the Persecuted Church

In the first part of this psalm, David wrestles with the question of why God forsook him. God does not answer him and does not seem to hear his prayers. He feels lonely and miserable.
After a difficult and profound struggle, David's spirit is lifted again. Even in the deepest pit God was with him, even though he did not notice it. The Lord did hear him when he called out to Him (v.24).
Because of that, David now gives thanks to his God. Lonely, but never alone.
David
I will declare your name to my brothers; in the congregation I will praise you.
You who fear the Lord, praise him! All you descendants of Jacob, honor him! Revere him, all you descendants of Israel!
For he has not despised or disdained the suffering of the afflicted one; he has not hidden his face from him but has listened to his cry for help.
From you comes the theme of my praise in the great assembly; before those who fear you will I fulfill my vows.
The poor will eat and be satisfied; they who seek the Lord will praise him - may your hearts live forever!
All the ends of the earth will remember and turn to the Lord, and all the families of the nations will bow down before him,
for dominion belongs to the Lord and he rules over the nations.
(Psalm 22:22-28)
Copyright [C] 1995 Open Doors International. Used by permission.
Click here to sign up for a free monthly newsletter from Open Doors about persecuted Christians.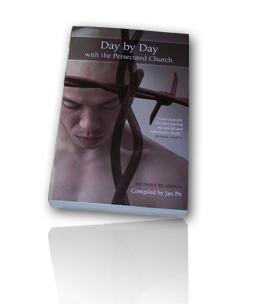 Day by Day with the Persecuted Church
compiled by Jan Pit with a forward by Brother Andrew (paperback, revised 2000)
Compelling wisdom from the pen of actual believers living amidst persecution, you'll be connected to the suffering, courage, and depth of life that exists in the harshest places in the world. Each of these 365 thought-provoking devotions will deepen your understanding of Christian persecution and provoke you to pray for our brothers and sisters with a new found depth.