from Day by Day with the Persecuted Church

Save me, O God, for the waters have come up to my neck. I sink in the miry depths, where there is no foothold. I have come into the deep waters; the floods engulf me. I am worn out calling for help; my throat is parched. My eyes fail, looking for my God. Those who hate me without reason outnumber the hairs of my head; many are my enemies without cause, those who seek to destroy me. I am forced to restore what I did not steal. (Psalm 69:1-4)
Sister Maria
These are the words of David, the man after God's heart, but at the same time the fugitive king of Israel, calling out to God while fleeing his enemies. He called to God in times of peace and in times of persecution.
I often thought of these verses when I was imprisoned.
I was also reminded of Jesus' warning:
"You must be on your guard. You will be handed over to the local councils and flogged in the synagogues. On account of Me you will stand before governors and kings as witnesses to them...Whenever you are arrested and brought to trial, do not worry beforehand about what to say. Just say whatever is given you at the time, for it is not you speaking, but the Holy Spirit" (Mark 13:9-11).
I am so glad that I memorized so many scriptures beforehand, for when my turn came to be persecuted for Christ, they really sustained me through all the difficult times.
"Let the word of Christ dwell in you richly" (Colossians 3:16).
If that is the case, you will always experience the previous verse "Let the peace of Christ rule in your hearts ... and be thankful" (Colossians 3:15).
Sister Maria from Mozambique. She had been imprisoned under severe circumstances. Sister Maria uses a pseudonym.
Copyright [C] 1995 Open Doors International. Used by permission.
Click here to sign up for a free monthly newsletter from Open Doors about persecuted Christians.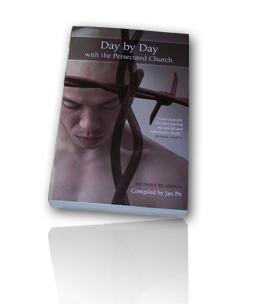 Day by Day with the Persecuted Church
compiled by Jan Pit with a forward by Brother Andrew (paperback, revised 2000)
Compelling wisdom from the pen of actual believers living amidst persecution, you'll be connected to the suffering, courage, and depth of life that exists in the harshest places in the world. Each of these 365 thought-provoking devotions will deepen your understanding of Christian persecution and provoke you to pray for our brothers and sisters with a new found depth.