from Day by Day with the Persecuted Church

...and do not be afraid of the people of the land, because we will swallow them up. Their protection is gone, but the Lord is with us. Do not be afraid of them. (Numbers 14:9)
Caleb
What was the difference between Joshua and Caleb and the other ten spies? All twelve of them had been in the promised land. All of them had seen the fruit of the land. All knew of the giants who lived there. The latter, the presence of giants separated Joshua and Caleb from the other ten. They had all seen the same, but they differed in their judgment of the situation.
The ten compared their own strength to that of the giants. The two compared the strength of the giants to that of the Lord. The ten viewed themselves as grasshoppers in comparison to the giants. The two viewed the giants as grasshoppers in comparison to God.
Yes, Caleb even added that the giants would serve as food for them, "we will swallow them up." The bigger the giant the greater the meal.
Yet Joshua and Caleb were not super-spiritual. They acknowledged the presence of giants, the enemy for they had seen them for themselves. But ... they saw more; they saw God. When you see God in His greatness, even giants look as small as grasshoppers.
It is good to acknowledge your problems, but it is wrong and dangerous to focus all your attention on them. There is another reality. There is a God, whom Caleb refers to as, "The Lord is with us, do not be afraid of them!"
"Lord, open our eyes so that we can see. Really see!"
Copyright [C] 1995 Open Doors International. Used by permission.
Click here to sign up for a free monthly newsletter from Open Doors about persecuted Christians.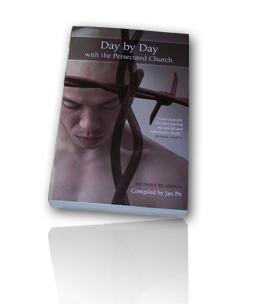 Day by Day with the Persecuted Church
compiled by Jan Pit with a forward by Brother Andrew (paperback, revised 2000)
Compelling wisdom from the pen of actual believers living amidst persecution, you'll be connected to the suffering, courage, and depth of life that exists in the harshest places in the world. Each of these 365 thought-provoking devotions will deepen your understanding of Christian persecution and provoke you to pray for our brothers and sisters with a new found depth.