from Day by Day with the Persecuted Church

But because my servant Caleb has a different spirit and follows me whole-heartedly, I will bring him into the land he went to, and his descendants will inherit it. (Numbers 14:24)
Caleb
Although Caleb was not an Israelite by birth, he was an Israelite indeed. His name is derived from a Hebrew word, meaning faithful, alert and obedient. 
The name Caleb is also an animal name, meaning "dog", in which faithfulness, alertness and obedience are prominent features. You may never call your dog Caleb - or your child. We don't call our children after a dog, do we? But are the qualities of Caleb's name present in our lives - faithfulness, alertness and obedience?
Such a Caleb not only has a bright future, but also the strength to face today's conflicts. Maybe we should turn it around. Whoever faces today's problems in a spirit of faithfulness, alertness and obedience will have a bright future. He may count on God's promise, I will be with him and with his descendants.
What a promise - for the future - and for today.
Copyright [C] 1995 Open Doors International. Used by permission.
Click here to sign up for a free monthly newsletter from Open Doors about persecuted Christians.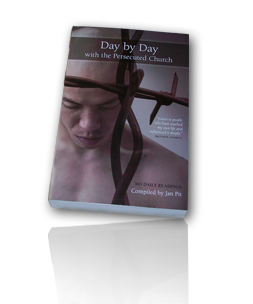 Day by Day with the Persecuted Church
compiled by Jan Pit with a forward by Brother Andrew (paperback, revised 2000)
Compelling wisdom from the pen of actual believers living amidst persecution, you'll be connected to the suffering, courage, and depth of life that exists in the harshest places in the world.  Each of these 365 thought-provoking devotions will deepen your understanding of Christian persecution and provoke you to pray for our brothers and sisters with a new found depth.
 To order your copy of this devotional, click