from Day by Day with the Persecuted Church

Like clay in the hand of the potter, so are you in my hand. (Jeremiah 18:6)
Mehdi Dibaj
It is to the humble that God gives His grace.
It is in the fire that gold becomes pure.
It is the rubbing and cutting that makes the diamond brilliant.
It is in high temperatures that the rust of the pot is burnt.
It is through the narrow gate that we enter the Kingdom of Heaven.
It is in great difficulties that men of God are made.
Lord, make me such a man.
Mehdi Dibaj is from Iran. While this book was being compiled, Mehdi Dibaj had been in prison for nine years. Early in 1994 he was released, but was murdered six months later. His courtroom defense was edited to form part of this book.
Copyright [C] 1995 Open Doors International. Used by permission.
Copyright [C] 1995 Open Doors International. Used by permission.
Click here to sign up for a free monthly newsletter from Open Doors about persecuted Christians.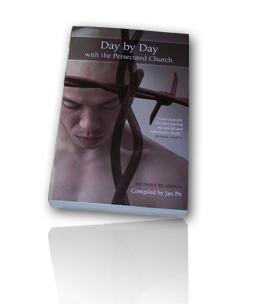 Day by Day with the Persecuted Church
compiled by Jan Pit with a forward by Brother Andrew (paperback, revised 2000)
Compelling wisdom from the pen of actual believers living amidst persecution, you'll be connected to the suffering, courage, and depth of life that exists in the harshest places in the world. Each of these 365 thought-provoking devotions will deepen your understanding of Christian persecution and provoke you to pray for our brothers and sisters with a new found depth.