from Day by Day with the Persecuted Church

For no matter how many promises God has made, they are "Yes" in Christ. And so through Him the "Amen" is spoken by us to the glory of God. (2 Corinthians 2:20)
Mehdi Dibaj
"My soul clings to you; your right hand upholds me" (Psalm 63:8).
"When anxiety was great within me, your consolation brought joy to my soul" (Psalm 94:19).
"I will lie down and sleep in peace, for you alone, O Lord, make me dwell in safety" (Psalm 4:8).
"Even youths grow tired and weary, and young men stumble and fall, but those who hope in the Lord will renew their strength. They will soar on wings like eagles; they will run and not grow weary, they will walk and not be faint" (Isaiah 40:30).
"He gives strength to the weary, and increases the power of the weak" (Isaiah 40:29).
Blessed are we Christians, for we are God's children. I will thank Him forever for His loving kindness. I shout for joy in the night with my thankful heart. "No eye has seen, no ear has heard, no mind has conceived what God has prepared for those who love Him - but God has revealed it to us by His Spirit" (1 Corinthians 2:9,10).
What a good God! What an incredible Savior.
Mehdi Dibaj is from Iran. While this book was being compiled, Mehdi Dibaj had been in prison for nine years. Early in 1994 he was released, but was murdered six months later. His courtroom defense was edited to form part of this book.
Copyright [C] 1995 Open Doors International. Used by permission.
Copyright [C] 1995 Open Doors International. Used by permission.
Click here to sign up for a free monthly newsletter from Open Doors about persecuted Christians.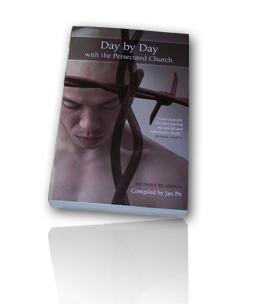 Day by Day with the Persecuted Church
compiled by Jan Pit with a forward by Brother Andrew (paperback, revised 2000)
Compelling wisdom from the pen of actual believers living amidst persecution, you'll be connected to the suffering, courage, and depth of life that exists in the harshest places in the world. Each of these 365 thought-provoking devotions will deepen your understanding of Christian persecution and provoke you to pray for our brothers and sisters with a new found depth.