from Day by Day with the Persecuted Church

If we live, we live to the Lord; and if we die, we die to the Lord. So, whether we live or die, we belong to the Lord.
Mehdi Dibaj
My dear son, does it ever happen to you that you weep all night? But morning comes and joy flows.
Very soon we will see the fruit of the hard things in our lives and we will be satisfied.
This is our hope; the blessed hope that Christ is coming. He will lead us to life-giving springs.
To be with you, O Lord, is Paradise
To live in the Spirit is sweet and full of fruits
To die in your way, O Christ is life itself.
They once asked, "What will you do in the day of hardship and pressure?"
The answer, "I welcome the difficulties with joy, because I can do all things through Christ who strengthens me."
In the triumphal procession of Christ
We will go forward by the power of God
And spread the good news of His salvation.
Mehdi Dibaj is from Iran. While this book was being compiled, Mehdi Dibaj had been in prison for nine years. Early in 1994 he was released, but was murdered six months later. His courtroom defense was edited to form part of this book.
Copyright [C] 1995 Open Doors International. Used by permission.
Copyright [C] 1995 Open Doors International. Used by permission.
Click here to sign up for a free monthly newsletter from Open Doors about persecuted Christians.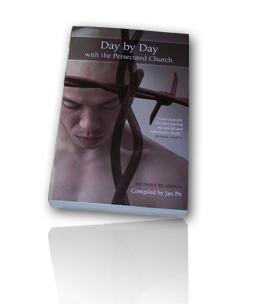 Day by Day with the Persecuted Church
compiled by Jan Pit with a forward by Brother Andrew (paperback, revised 2000)
Compelling wisdom from the pen of actual believers living amidst persecution, you'll be connected to the suffering, courage, and depth of life that exists in the harshest places in the world. Each of these 365 thought-provoking devotions will deepen your understanding of Christian persecution and provoke you to pray for our brothers and sisters with a new found depth.