from Day by Day with the Persecuted Church

This is a prayer for the king, we could also say, a prayer for the government. Paul writes about this in 1 Timothy 2:1-3. He exhorts us to pray for those who have been placed in authority over us, that we may lead peaceful and quiet lives in all godliness and holiness.
David
May the Lord answer you when you are in distress; may the name of the God of Jacob protect you.
May he send you help from the sanctuary and grant you support from Zion.
May he remember all your sacrifices and accept your burnt offerings.
May he give you the desire of your heart and make all your plans succeed.
We will shout for joy when you are victorious and will lift up our banners in the name of our God. May the Lord grant all your requests.
Now I know that the Lord saves his anointed; he answers him from his holy heaven with the saving power of his right hand.
Some trust in chariots and some in horses, but we trust in the name of the Lord our God.
They are brought to their knees and fall, but we rise up and stand firm.
O Lord, save the king! Answer us when we call!
(Psalm 20)
Copyright [C] 1995 Open Doors International. Used by permission.
Copyright [C] 1995 Open Doors International. Used by permission.
Click here to sign up for a free monthly newsletter from Open Doors about persecuted Christians.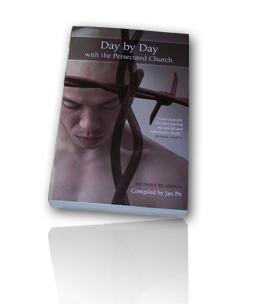 Day by Day with the Persecuted Church
compiled by Jan Pit with a forward by Brother Andrew (paperback, revised 2000)
Compelling wisdom from the pen of actual believers living amidst persecution, you'll be connected to the suffering, courage, and depth of life that exists in the harshest places in the world. Each of these 365 thought-provoking devotions will deepen your understanding of Christian persecution and provoke you to pray for our brothers and sisters with a new found depth.