from Day by Day with the Persecuted Church

Who shall separate us from the love of Christ? (Romans 8:35)
Mehdi Dibaj defense - part 3
"I would rather have the whole world against me, but know that the Almighty God is with me, or be called an apostate but know that I have the approval of the God of glory. Who can destroy the relationship between the creator and the creature, or defeat a heart that is faithful to God? He will be safe and secure under the shadow of the Almighty. Our refuge is the mercy seat of God. I know in whom I have believed, and He is able to guard what I have entrusted to Him to the end, until I reach the Kingdom of God. That is the place where the righteous will shine like the sun, but the evildoers will receive their punishment in hell."
At the time of this trial, Dibaj had already spent almost nine years in prison for his faith in Jesus Christ. If only he would deny Jesus Christ, he could be free tomorrow. Dibaj would rather lose his freedom and life than his peace with God. "I know in whom I have believed."
Do you know that too? Whatever the consequences may be?
Mehdi Dibaj is from Iran. While this book was being compiled, Mehdi Dibaj had been in prison for nine years. Early in 1994 he was released, but was murdered six months later. His courtroom defense was edited to form part of this book.
Copyright [C] 1995 Open Doors International. Used by permission.
Copyright [C] 1995 Open Doors International. Used by permission.
Click here to sign up for a free monthly newsletter from Open Doors about persecuted Christians.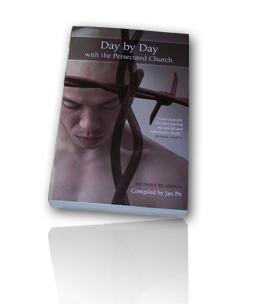 Day by Day with the Persecuted Church
compiled by Jan Pit with a forward by Brother Andrew (paperback, revised 2000)
Compelling wisdom from the pen of actual believers living amidst persecution, you'll be connected to the suffering, courage, and depth of life that exists in the harshest places in the world. Each of these 365 thought-provoking devotions will deepen your understanding of Christian persecution and provoke you to pray for our brothers and sisters with a new found depth.