from Day by Day with the Persecuted Church

Lord, to whom shall we go? You have the words of eternal life. (John 6:68)
Mehdi Dibaj defense - part 4
"They tell me, 'return!' But who can I return to from the arms of my God? Is it right to accept what people are saying instead of obeying the Word of God? I have now been walking with the God of miracles for 45 years. His kindness to me is like a shadow and I owe Him so much for His fatherly love and concern.
The love of Jesus has filled all my being and I feel the warmth of His love in every part of my body.
The test of faith is a clear example. The good and kind God tests us in preparation for heaven. The God of Daniel, who protected Daniel's friends in the fiery furnace, has protected me for nine years in prison. All the bad things that have happened to me have turned out for my good and gain. So much so, that I am filled with joy and thankfulness."
Mehdi Dibaj is from Iran. While this book was being compiled, Mehdi Dibaj had been in prison for nine years. Early in 1994 he was released, but was murdered six months later. His courtroom defense was edited to form part of this book.
Copyright [C] 1995 Open Doors International. Used by permission.
Copyright [C] 1995 Open Doors International. Used by permission.
Click here to sign up for a free monthly newsletter from Open Doors about persecuted Christians.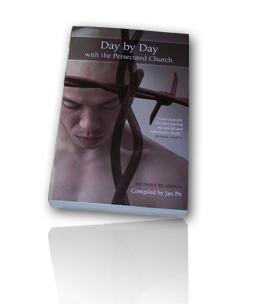 Day by Day with the Persecuted Church
compiled by Jan Pit with a forward by Brother Andrew (paperback, revised 2000)
Compelling wisdom from the pen of actual believers living amidst persecution, you'll be connected to the suffering, courage, and depth of life that exists in the harshest places in the world. Each of these 365 thought-provoking devotions will deepen your understanding of Christian persecution and provoke you to pray for our brothers and sisters with a new found depth.