from Day by Day with the Persecuted Church

"The Word became flesh and made his dwelling among us. We have seen his glory, the glory of the One and Only, who came from the Father, full of grace and truth." (John 1:14)
Remarkable Remarks - The Word of God
Josif Trifa - Romania: "A Christian without a bible is like a soldier without a gun."
Russian Christian after receiving his first Bible: "The more I read, the more I want to read."
Another Russian Christian after receiving a Bible: "I could go to prison for having this book, but this book can also set men free."
Siberian Christian who had only one page of the Bible: "I wish I knew what is on the next page."
Koran: "God forbid that He should have a son!" (Sura 4:172).
Bible: "For God so loved the world that He gave his one and only Son, that whoever believes in Him shall not perish but have eternal life." (John 3:16)
William H. Houghton: "Lay hold on the Bible, until the Bible lays hold on you."
Copyright [C] 1995 Open Doors International. Used by permission.
Copyright [C] 1995 Open Doors International. Used by permission.
Click here to sign up for a free monthly newsletter from Open Doors about persecuted Christians.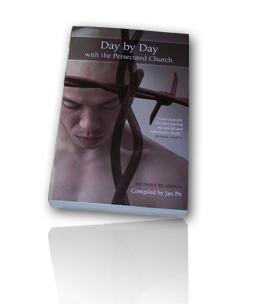 Day by Day with the Persecuted Church
compiled by Jan Pit with a forward by Brother Andrew (paperback, revised 2000)
Compelling wisdom from the pen of actual believers living amidst persecution, you'll be connected to the suffering, courage, and depth of life that exists in the harshest places in the world. Each of these 365 thought-provoking devotions will deepen your understanding of Christian persecution and provoke you to pray for our brothers and sisters with a new found depth.