from Day by Day with the Persecuted Church

I have fought the good fight, I have finished the race, I have kept the faith. Now there is in store for me the crown of righteousness, which the Lord, the righteous Judge, will award me on that day - and not only to me, but also to all who have longed for his appearing.
Remarkable Remarks - Counting the Cost
Chinese Evangelist after spending many years in prison:
"If you accept suffering for your faith as a privilege, it becomes your friend, and brings you closer to God."
Iranian pastor at funeral service of murdered Christian leader Rev Haik Hovsepian Mehr:
"Just as at the stoning of Stephen, for every stone that is being thrown, another Paul will rise."
Russian judge to Christian at a trial:
"We don't mind that you believe in God, but leave living according to your Bible until you are in heaven."
The response of the Christian:
"Your Honor, if I do not live according to the Bible on earth, I will never go to heaven."
Chinese Evangelist:
"Many Christians have been killed for their faith. But because of this, more people have been raised up by the Lord."
GK Chesterton:
"Christianity has died many times and risen again, because it has a God who knows the way out of the grave."
Copyright [C] 1995 Open Doors International. Used by permission.
Click here to sign up for a free monthly newsletter from Open Doors about persecuted Christians.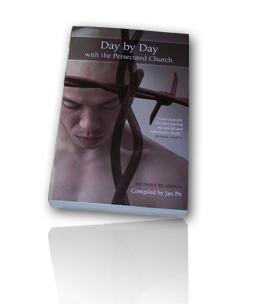 Day by Day with the Persecuted Church
compiled by Jan Pit with a forward by Brother Andrew (paperback, revised 2000)
Compelling wisdom from the pen of actual believers living amidst persecution, you'll be connected to the suffering, courage, and depth of life that exists in the harshest places in the world. Each of these 365 thought-provoking devotions will deepen your understanding of Christian persecution and provoke you to pray for our brothers and sisters with a new found depth.