from Day by Day with the Persecuted Church

And who knows but that you have come to royal position for such a time as this? (Esther 4:14)
Esther
The name of God is not mentioned in the Book of Esther. Yet God is present on every page. He shows us how He watches over His people Israel. And He uses people who - at first sight - appear to be "secret" believers.
Haman, the Agagite, hated the Jews. His greatest passion was to destroy all Jews (Esther 3:6-11). The Hitler of the Old Testament.
But God watches over His people in exile. And He uses men and women like Mordecai and Esther. The Jews are not hanged, but Haman, the hater of the Jews is.
Queen Esther, imperceptibly, played an important role. She, together with Mordecai, would save the Jewish people from certain annihilation. Esther means "star." In Jewish history, she still shines brightly.
Yet she did not appear to be a shining light for her environment. She never mentioned the name of God. No, God's people did not talk very much, but God did. He spoke through His deeds.
So, in this "God-less" book we meet an almighty God who is eternally faithful and never gives up on the work that His hands started to do.
In our days, especially in Islamic countries, there are many "secret" Christians. If they would openly profess their faith in Christ, they might even face death.
Let us not give up on them too easily, but let us pray that God's plan in their lives will be fulfilled. Through our intercession we are co-laborers of God's church, for the honor of His glory.
Copyright [C] 1995 Open Doors International. Used by permission.
Click here to sign up for a free monthly newsletter from Open Doors about persecuted Christians.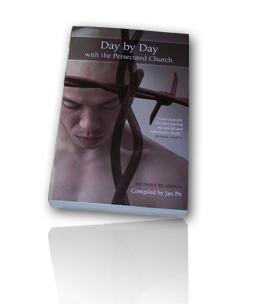 Day by Day with the Persecuted Church
compiled by Jan Pit with a forward by Brother Andrew (paperback, revised 2000)
Compelling wisdom from the pen of actual believers living amidst persecution, you'll be connected to the suffering, courage, and depth of life that exists in the harshest places in the world. Each of these 365 thought-provoking devotions will deepen your understanding of Christian persecution and provoke you to pray for our brothers and sisters with a new found depth.