from Day by Day with the Persecuted Church

He settles the barren woman in her home as a happy mother of children. Praise the Lord. (Psalm 113:9)
Sister Chen
I remember an old lady, 90 years old, serving the Lord in a very spiritual way. She has been ordained by the Lord to be celibate. To worldly people, she is a barren woman. And yet she is bearing more fruit, spiritual fruit, than everybody else. To this very day, at the age of 90, she lives a life of intercession. She gives birth to many spiritual children. She feeds many spiritual infants with milk, making them grow in the love of Christ.
Is this woman barren? No, she has more spiritual children than any other mother has natural children. The Church in China respects and loves this old, happy mother of many children, very much.
"The righteous will flourish like a palm tree, they will grow like a cedar of Lebanon; planted in the house of the Lord, they will flourish in the courts of our God. They will bear fruit in old age, they will stay fresh and green" (Psalm 92:12-14).
Sister Chen is from China and is a pillar of God's house in this vast land. Due to security reasons, we cannot introduce her further to you, but her testimony speaks for itself.
Copyright [C] 1995 Open Doors International. Used by permission.
Click here to sign up for a free monthly newsletter from Open Doors about persecuted Christians.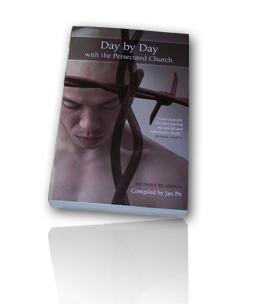 Day by Day with the Persecuted Church
compiled by Jan Pit with a forward by Brother Andrew (paperback, revised 2000)
Compelling wisdom from the pen of actual believers living amidst persecution, you'll be connected to the suffering, courage, and depth of life that exists in the harshest places in the world. Each of these 365 thought-provoking devotions will deepen your understanding of Christian persecution and provoke you to pray for our brothers and sisters with a new found depth.