from Day by Day with the Persecuted Church

"I tell you the truth," Jesus replied, "no-one who has left home or brothers or sisters or mother or father or children or fields for me and the gospel will fail to receive a hundred times as much in this present age (homes, brothers, sisters, mothers, children and fields-and with them, persecutions) and in the age to come, eternal life."
(Mark 10:29-30)
Sister Chen
The parents of Sister Suk Wan were already in their eighties when their only daughter died. When the news of her death reached the body of Christ in their town, the Christians were deeply touched and decided to take care of these old people. After some time they said, "We lost our only daughter, but God has given us back so many new spiritual sons and daughters." Their brotherly love for each other touched many unbelievers.
Suffering is never in vain. The blood of martyr Suk Wan became a seed of the Church - growing stronger, in depth and number.
"A new command I give you: Love one another. As I have loved you, so you must love one another. All men will know that you are my disciples if you love one another" (John 13:34-35).
Sister Chen is from China and is a pillar of God's house in this vast land. Due to security reasons, we cannot introduce her further to you, but her testimony speaks for itself.
Copyright [C] 1995 Open Doors International. Used by permission.
Click here to sign up for a free monthly newsletter from Open Doors about persecuted Christians.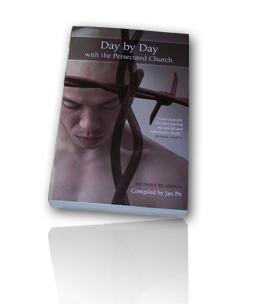 Day by Day with the Persecuted Church
compiled by Jan Pit with a forward by Brother Andrew (paperback, revised 2000)
Compelling wisdom from the pen of actual believers living amidst persecution, you'll be connected to the suffering, courage, and depth of life that exists in the harshest places in the world. Each of these 365 thought-provoking devotions will deepen your understanding of Christian persecution and provoke you to pray for our brothers and sisters with a new found depth.