from Day by Day with the Persecuted Church

But when they arrest you, do not worry about what to say or how to say it. At that time you will be given what to say.
(Matthew 10:19)
Pastor Zhu's wife
During the Cultural Revolution I was detained and isolated from the outside world because I refused to compromise with the enemies of God.
My husband was also detained. We were not allowed to communicate with each other. They tried to break our spirit by interrogating us individually.
One day they came and looked triumphantly at me. "Your husband is a good man. You should love him dearly. He loves you too and does not want you to suffer any longer. He has finally given us the names of those who have visited your house last year. Thanks to his co-operation he will be sentenced less severely. And so will you. But before we release you we want to check with you if the names your husband has given are correct!"
Afterwards, one realizes how simple and dirty this trick was. But at the time it was not simple - it was clever. Your body and spirit are weak - you want to get out of that dirty prison. Any offer sounds like an opportunity to be set free. How wonderful is God's grace and protection. When we are weak - He is strong. He will give us words to speak - and power to remain quiet where needed. How He does it? Through the Holy Spirit who lives in us.
If God's word exhorts us not to worry when we get arrested, how much less should we worry about small, petty daily matters.
"Do not worry - for He cares for you" (1 Peter 5:7).
Sister Zhu from China is a pillar of God's house in this vast land. Due to security reasons, we cannot introduce her further to you, but her testimony speaks for itself.
Copyright [C] 1995 Open Doors International. Used by permission.
Click here to sign up for a free monthly newsletter from Open Doors about persecuted Christians.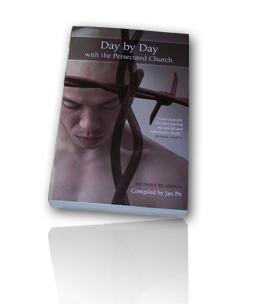 Day by Day with the Persecuted Church
compiled by Jan Pit with a forward by Brother Andrew (paperback, revised 2000)
Compelling wisdom from the pen of actual believers living amidst persecution, you'll be connected to the suffering, courage, and depth of life that exists in the harshest places in the world. Each of these 365 thought-provoking devotions will deepen your understanding of Christian persecution and provoke you to pray for our brothers and sisters with a new found depth.