from Day by Day with the Persecuted Church

The very fact that you have lawsuits among you means you have been completely defeated already. Why not rather be wronged? Why not rather be cheated? (1 Corinthians 6:7)
Pastor Zhu's wife
Quarrels among believers are never good. Lawsuits among believers are even worse. When there is a conflict among believers, they should talk it over in the love of the Lord - with a humble and forgiving heart.
Do not wait and grumble against each other. It only gives the devil a chance to intervene. "Completely defeated" means "failure."
Jesus teaches us that victory is not the emphasis of personal innocence and fairness, but peace and humility among the Body of Christ (Matthew 5:39,40).
We Christians in China often find ourselves in a situation where we have to appear in court. We are ill-treated, put in prison without cause; nobody defends our rights.
We have every "right" to complain. But it will not be to our advantage. We will only suffer more and lose our peace in the Lord.
If we are learning not to react in a worldly way against unbelievers, how much more should the mind of Christ dwell in us when we disagree with fellow Christians? "Make my joy complete by being like-minded, having the same love, being one in spirit and purpose ... in humility consider others better than yourselves ... your attitude should be the same as that of Christ Jesus" (Philippians 2:2-5).
"Therefore, if you are offering your gift at the altar and then remember that your brother has something against you, leave your gift there in front of the altar. First go and be reconciled to your brother, then come and offer your gift" (Matthew 5:23,24).
Sister Zhu from China is a pillar of God's house in this vast land. Due to security reasons, we cannot introduce her further to you, but her testimony speaks for itself.
Copyright [C] 1995 Open Doors International. Used by permission.
Click here to sign up for a free monthly newsletter from Open Doors about persecuted Christians.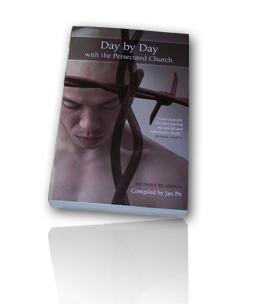 Day by Day with the Persecuted Church
compiled by Jan Pit with a forward by Brother Andrew (paperback, revised 2000)
Compelling wisdom from the pen of actual believers living amidst persecution, you'll be connected to the suffering, courage, and depth of life that exists in the harshest places in the world. Each of these 365 thought-provoking devotions will deepen your understanding of Christian persecution and provoke you to pray for our brothers and sisters with a new found depth.