from Day by Day with the Persecuted Church

You know that your brothers throughout the world are undergoing the same kind of sufferings.
(1 Peter 5:9)
Ferenc Visky
God never tests us without comforting us as well. But the comfort is not always what we expect it to be.
It was the sixth year of my detention and I didn't know anything about my wife and seven little children who had stayed behind in the vicarage. The eldest of the children was only ten years old when I left them.
One evening, another group of prisoners arrived at the Szamosujvar prison. They came from the Danube delta and among them was a pastor who recognized me. He came to me and softly said to me, "I don't want to upset you, but I have to tell you something. On good authority, I know that your family has been deported to a temporary accommodation close by the prisoners' work area."
At first, I was deeply shocked by this message - weren't they satisfied with the sentence of twenty-two years' imprisonment? Did they also have to intrude into the lives of my wife and children? My heart was craving for strength and comfort. In this awful inner struggle, the Lord answered me. Like a flash of lightning, the words came to my mind, "...your brothers are undergoing the same kind of suffering." An inexpressible joy filled my heart and I gave thanks to the Lord for the favor which he allowed my wife and children to share. They, too, had become bearers of Christ's wounds. Gratitude and peace filled my heart. To the present day, I experience what a rich source of blessing these four years of severe suffering have been in the lives of our children. If you say "yes" to God's unusual comfort, your life, too, will be full of immeasurable blessing.
Ferenc Visky is from Romania. He and his wife write in a moving way about their life with the Lord despite heavy persecution.
Copyright [C] 1995 Open Doors International. Used by permission.
Click here to sign up for a free monthly newsletter from Open Doors about persecuted Christians.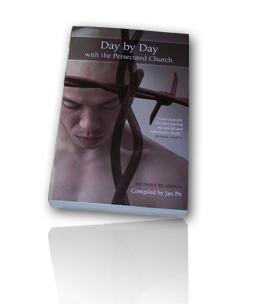 Day by Day with the Persecuted Church
compiled by Jan Pit with a forward by Brother Andrew (paperback, revised 2000)
Compelling wisdom from the pen of actual believers living amidst persecution, you'll be connected to the suffering, courage, and depth of life that exists in the harshest places in the world. Each of these 365 thought-provoking devotions will deepen your understanding of Christian persecution and provoke you to pray for our brothers and sisters with a new found depth.