from Day by Day with the Persecuted Church

David is hiding from Saul in a cave. There is no way out. Saul is unaware of David's presence when he goes into the cave. David's men encourage David to kill Saul. "This is the very day the Lord spoke of when he said to you, "I will give your enemy in your hands for you to deal with as you wish."
How does David react to this "gift from God?" "The Lord forbid that I should do such a thing to the Lord's anointed ... for he is the anointed of the Lord" (1 Samuel 24:3-6).
David
Have mercy on me, O God, have mercy on me, for in you my soul takes refuge. I will take refuge in the shadow of your wings until the disaster has passed.
I cry out to God Most High, to God, who fulfills his purpose for me.
He sends from heaven and saves me, rebuking those who hotly pursue me; God sends his love and his faithfulness.
I am in the midst of lions; I lie among ravenous beasts - men whose teeth are spears and arrows, whose tongues are sharp swords.
Be exalted, O God, above the heavens; let your glory be over all the earth.
They spread a net for my feet - I was bowed down in distress. They dug a pit in my path - but they have fallen into it themselves.
My heart is steadfast, O God, my heart is steadfast; I will sing and make music.
(Psalm 57:1-7)
David's answer is clear.
He leaves the judgment to God. This gives peace in the midst of danger: "My heart is steadfast, O God."
Copyright [C] 1995 Open Doors International. Used by permission.
Click here to sign up for a free monthly newsletter from Open Doors about persecuted Christians.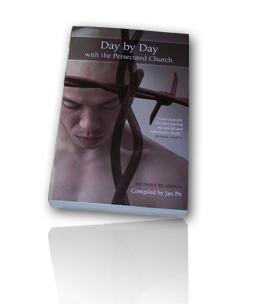 Day by Day with the Persecuted Church
compiled by Jan Pit with a forward by Brother Andrew (paperback, revised 2000)
Compelling wisdom from the pen of actual believers living amidst persecution, you'll be connected to the suffering, courage, and depth of life that exists in the harshest places in the world. Each of these 365 thought-provoking devotions will deepen your understanding of Christian persecution and provoke you to pray for our brothers and sisters with a new found depth.