from Day by Day with the Persecuted Church

Daniel resolved not to defile himself with the royal food and wine. (Daniel 1:8)
Daniel
"What you learn as a child, stays with you always," says a Dutch proverb. Such as praying at bed-time and maybe the children's songs from Sunday School.
That is what the first chapter of Daniel is all about.
The youth of Israel who were deported from Jerusalem to Babylon should have become impregnated with a pagan spirit. They were to undergo a complete brainwashing. Not under pressure but voluntarily. If they were put into a concentration camp they would have resolved to remain faithful to God. Their Babylonian captors were aware of this and so they adopted another strategy. They offered the youngsters all kinds of privileges.
The goal was clear - to influence the spirit. The method was devilish.
1. They exchanged their parental home for a palace.
2. They were given new names, for their own names reminded them too much of God. They received new names linked to the idols of Babylon.
3. They had different literature to read. Not about God but about the Babylonian religion.
4. They had a choice of different food, which had been offered to idols and so would render it unclean for the Israelites.
How would the young teenage Israelites react? Verse 8 provides the answer; they refused.
They had believing parents who had taught them about God. Because of their upbringing they dared to take a stand even though they were only teenagers. And God blessed them for their commitment. May God find many such young people in our days. Parents hold the key.
"What you learn as a child stays with you," even when things seem to go wrong.
Remember: God still has His hand on your children.
Copyright [C] 1995 Open Doors International. Used by permission.
Click here to sign up for a free monthly newsletter from Open Doors about persecuted Christians.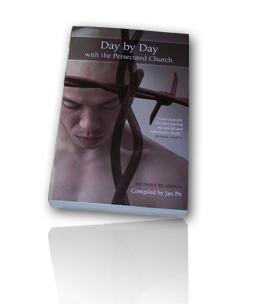 Day by Day with the Persecuted Church
compiled by Jan Pit with a forward by Brother Andrew (paperback, revised 2000)
Compelling wisdom from the pen of actual believers living amidst persecution, you'll be connected to the suffering, courage, and depth of life that exists in the harshest places in the world. Each of these 365 thought-provoking devotions will deepen your understanding of Christian persecution and provoke you to pray for our brothers and sisters with a new found depth.