from Day by Day with the Persecuted Church

Daniel remained there until the first year of King Cyrus. (Daniel 1:21)
Daniel
"The One enthroned in heaven laughs," says the poet of Psalm 2. God could also have laughed when Daniel 1:21 was written: "Daniel remained there until the first year of King Cyrus"... 76 years later. Everything was aimed at changing the young Israelites into "real" Babylonians so that Israel as a nation would disappear. So that (and that was Satan's final goal) a Messiah could never come out of Israel. Therefore the brainwashing was an attempt to make them forget God.
In consequence Daniel must also disappear. That was Satan's plan. But according to God's plan Daniel must remain, as a man of God, as a proof of God's faithfulness, and as a hope for the future. And Daniel did stay. He came to Babylon as a young man of 14 and stayed till Cyrus became king, 76 years later.
Kings came and went - but Daniel remained. World empires rose and fell - but Daniel remained. That is history and Christian history at the same time. Satan cannot destroy Israel as a nation and neither can he destroy the Church of Jesus Christ. He can close churches; he can imprison pastors; burn Bibles and replace them with atheistic literature ... but the "Daniels" will stay.
For Jesus has promised that He will build His Church and the "gates of hell will not prevail against it."
Till Cyrus came ... the deliverance.
Till Christ came ... the Redeemer.
Therefore we can laugh, even through our tears.
Copyright [C] 1995 Open Doors International. Used by permission.
Click here to sign up for a free monthly newsletter from Open Doors about persecuted Christians.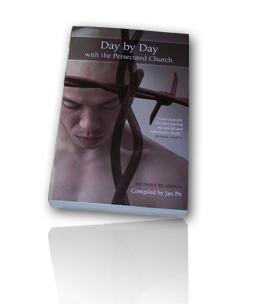 Day by Day with the Persecuted Church
compiled by Jan Pit with a forward by Brother Andrew (paperback, revised 2000)
Compelling wisdom from the pen of actual believers living amidst persecution, you'll be connected to the suffering, courage, and depth of life that exists in the harshest places in the world. Each of these 365 thought-provoking devotions will deepen your understanding of Christian persecution and provoke you to pray for our brothers and sisters with a new found depth.