from Day by Day with the Persecuted Church

We know that we are children of God, and that the whole world is under the control of the evil one.
(1 John 5:19)
Hristo Kulichev
We live in a world which is controlled by the enemy of God. And because we have become children of God, we also have become enemies of the wicked one. His goal is to destroy our souls. It makes no difference how he tries to do that - persecution or oppression; flattery or compromise; vanity or prosperity. The method is unimportant - the end result counts. Satan knows that Christians will not give up their belief in God. That is - true Christians will not. Nominal Christians easily will. We should ask ourselves again and again, "Am I living under the control of Satan - or does God control my life? I know I am His child - do I live likewise?"
Being a child of God, I should never make friendship with the world. 'Friendship with the world is hatred towards God' (James 4:4). Friendship starts with compromise - and leads to slavery. The Christian life is not a life of compromise and slavery, but of steadfastness and freedom. 'For everyone born of God overcomes the world. This is the victory that has overcome the world, even our faith' (1 John 5:4).
"For He who is in us is greater than he who is in the world' (1 John 4:4). 'Have faith in God' (Mark 11:22).
Hristo Kulichev is from Bulgaria. He was imprisoned and exiled for almost four years for his faith in Jesus Christ. He now has a leading function in the Bulgarian Church and is also editor of the Evangelical newspaper Zornitza (Morning Star).
Copyright [C] 1995 Open Doors International. Used by permission.
Click here to sign up for a free monthly newsletter from Open Doors about persecuted Christians.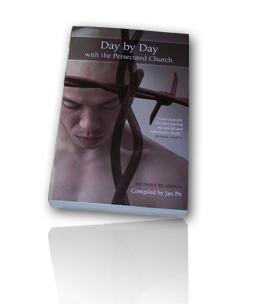 Day by Day with the Persecuted Church
compiled by Jan Pit with a forward by Brother Andrew (paperback, revised 2000)
Compelling wisdom from the pen of actual believers living amidst persecution, you'll be connected to the suffering, courage, and depth of life that exists in the harshest places in the world. Each of these 365 thought-provoking devotions will deepen your understanding of Christian persecution and provoke you to pray for our brothers and sisters with a new found depth.