from Day by Day with the Persecuted Church

Not unto us, O Lord, not unto us but to your name give glory.
(Psalm 115:1)
Hristo Kulichev
Sometimes we get selfish in our faith. We want God to arrange our life in such a way that we will be able to live happily and comfortably. We are always thinking of our own comfort and that God is obliged to provide for it. We want Him to supply our needs (and we have plenty of them!) in such a way that we will experience pleasure in life.
But God doesn't act that way. When Joseph was in prison he wanted to get out of that place as soon as possible. But God did not answer his prayer right away. He delayed his answer in order to give glory to His own name (Genesis 41:28). Martha and Mary wanted Jesus to come quickly and heal their brother Lazarus, but Jesus did not come right away. Was He not aware of their need and prayer request? Oh yes He was - but He waited in order to glorify God's name (John 11). As long as we want things for our own pleasure - He will wait and not answer our prayers. God wants to glorify His name.
'You do not have, because you do not ask God. When you ask, you do not receive because you ask with wrong motives, that you may spend what you get on your pleasures.'
Are our motives right? Are our priorities right? That teaches us to pray:
'Father, hallowed be your name, Your kingdom come, Your will be done.'
Such a prayer will always be answered. To His glory - and that gives us the greatest pleasure.
Hristo Kulichev is from Bulgaria. He was imprisoned and exiled for almost four years for his faith in Jesus Christ. He now has a leading function in the Bulgarian Church and is also editor of the Evangelical newspaper Zornitza (Morning Star).
Copyright [C] 1995 Open Doors International. Used by permission.
Click here to sign up for a free monthly newsletter from Open Doors about persecuted Christians.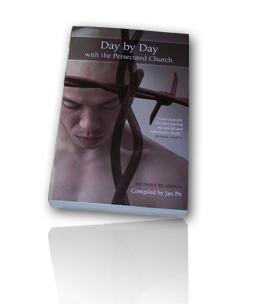 Day by Day with the Persecuted Church
compiled by Jan Pit with a forward by Brother Andrew (paperback, revised 2000)
Compelling wisdom from the pen of actual believers living amidst persecution, you'll be connected to the suffering, courage, and depth of life that exists in the harshest places in the world. Each of these 365 thought-provoking devotions will deepen your understanding of Christian persecution and provoke you to pray for our brothers and sisters with a new found depth.