from Day by Day with the Persecuted Church

Hristo Kulichev
God teaches us to pray for our daily bread - but He doesn't say that we have to think only about our daily bread. The struggle for bread is called 'struggle for life'. People are willing to make all kinds of compromises in order to receive bread. When I was put in prison there was hardly any food. When they gave us the prisoner's uniforms, one boy complained that his trousers were too tight. The supervisor said: 'Don't worry, very soon they will become loose.'
I knew what would follow. Every day I prayed, 'Lord, you fed five thousand people with five loaves of bread and two fishes. Only a little crumb is enough for me Lord, please give it to me.' I then realized that God can meet our needs in two ways.
1 He can give us what we need; or
2 He can set us free from what we consider a need.
God did not give me more bread. But he set me free from the feeling of hunger. I always felt satisfied. I never felt hungry - and bread and salt turned out to be a delicious meal for me.
When we trust the word which proceeds from the mouth of God we will never suffer want.
Hristo Kulichev is from Bulgaria. He was imprisoned and exiled for almost four years for his faith in Jesus Christ. He now has a leading function in the Bulgarian Church and is also editor of the Evangelical newspaper Zornitza (Morning Star).
Copyright [C] 1995 Open Doors International. Used by permission.
Click here to sign up for a free monthly newsletter from Open Doors about persecuted Christians.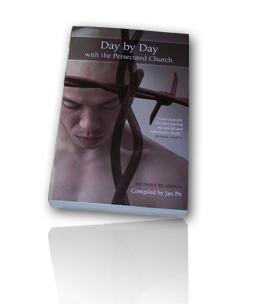 Day by Day with the Persecuted Church
compiled by Jan Pit with a forward by Brother Andrew (paperback, revised 2000)
Compelling wisdom from the pen of actual believers living amidst persecution, you'll be connected to the suffering, courage, and depth of life that exists in the harshest places in the world. Each of these 365 thought-provoking devotions will deepen your understanding of Christian persecution and provoke you to pray for our brothers and sisters with a new found depth.