from Day by Day with the Persecuted Church

David is on the run from Saul again. He is hiding in caves, in the desert of Ziph. But the Ziphites betray him. They tell Saul where David is hiding.
'Day after day Saul searched for him, but God did not give David into his hands' (1 Samuel 23:14).
'And Saul's son Jonathan went to David at Horesh and helped him to find strength in God' (1 Samuel 23:16).
David
Save me, O God, by your name; vindicate me by your might.
Hear my prayer, O God; listen to the words of my mouth.
Strangers are attacking me; ruthless men seek my life - men without regard for God.
Surely God is my help; the Lord is the one who sustains me.
Let evil recoil on those who slander me; in your faithfulness destroy them.
I will sacrifice a freewill offering to you; I will praise your name, O Lord, for it is good.
For he has delivered me from all my troubles, and my eyes have looked in triumph on my foes.
(Psalm 54)
Copyright [C] 1995 Open Doors International. Used by permission.
Click here to sign up for a free monthly newsletter from Open Doors about persecuted Christians.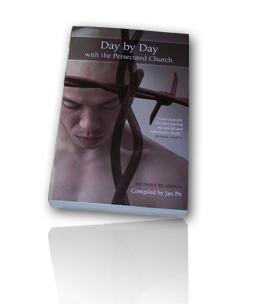 Day by Day with the Persecuted Church
compiled by Jan Pit with a forward by Brother Andrew (paperback, revised 2000)
Compelling wisdom from the pen of actual believers living amidst persecution, you'll be connected to the suffering, courage, and depth of life that exists in the harshest places in the world. Each of these 365 thought-provoking devotions will deepen your understanding of Christian persecution and provoke you to pray for our brothers and sisters with a new found depth.