from Day by Day with the Persecuted Church

In humility consider others better than yourselves.
Nicolae Gheorghita
On 17 January 1982, two laymen were ordained for the ministry without former theological training: Paul Negrut, a psychologist and Nick Gheorghita, an endocrinologist. They were to serve in one of the largest Baptist churches in Europe. I, Nick, was one of the two. On the way home from church, I suddenly heard the voice of the Holy Spirit, saying: 'He must increase, you must decrease.' And although I know that these words were spoken by John the Baptist in relationship to Jesus Christ - I also knew in my heart that it touched on the relationship between me and my newly ordained co-partner. I therefore asked Paul to stop the car and told him what the Lord has just showed me: I must be Paul's helper. There is no greater joy in my life than to see God leading Paul to victory in the valley, while I am interceding on the mountain on his behalf. I am committed to support him in what he does for the Lord.
Humanly speaking people want to be first - not second. They want to be served - not to serve. But if we allow God, through His Spirit, to control our lives we can all play our part - as leader or servants so that Christ's body will be built and His name glorified. Should that not be the goal of us all? What part does God want you to play?
Nicolae Gheorghita is from Romania. He became well-known as one of pastors of the largest Baptist Churches in Europe. Despite his status, his messages are characterized by their simplicity and servitude.
Copyright [C] 1995 Open Doors International. Used by permission.
Click here to sign up for a free monthly newsletter from Open Doors about persecuted Christians.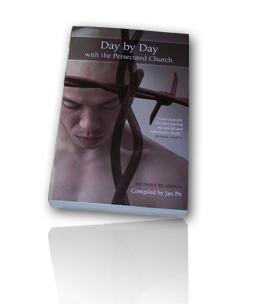 Day by Day with the Persecuted Church
compiled by Jan Pit with a forward by Brother Andrew (paperback, revised 2000)
Compelling wisdom from the pen of actual believers living amidst persecution, you'll be connected to the suffering, courage, and depth of life that exists in the harshest places in the world. Each of these 365 thought-provoking devotions will deepen your understanding of Christian persecution and provoke you to pray for our brothers and sisters with a new found depth.