from Day by Day with the Persecuted Church

This psalm can be divided into three parts. In all three, David prays for forgiveness. Only then can he have intimate fellowship with God. Real deliverance is the result of intimate fellowship with the Lord. To those people He will reveal His covenant.
David
The Lord confides in those who fear him; he makes his covenant known to them.
My eyes are ever on the Lord, for only he will release my feet from the snare.
Turn to me and be gracious to me, for I am lonely and afflicted.
The troubles of my heart have multiplied; free me from my anguish.
Look upon my affliction and my distress and take away all my sins.
See how my enemies have increased and how fiercely they hate me!
Guard my life and rescue me; let me not be put to shame, for I take refuge in you.
May integrity and uprightness protect me, because my hope is in you.
(Psalm 25:14-21)
Copyright [C] 1995 Open Doors International. Used by permission.
Click here to sign up for a free monthly newsletter from Open Doors about persecuted Christians.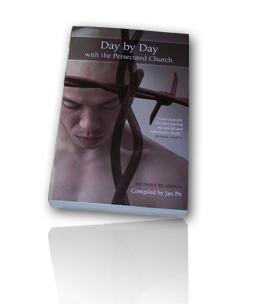 Day by Day with the Persecuted Church
compiled by Jan Pit with a forward by Brother Andrew (paperback, revised 2000)
Compelling wisdom from the pen of actual believers living amidst persecution, you'll be connected to the suffering, courage, and depth of life that exists in the harshest places in the world. Each of these 365 thought-provoking devotions will deepen your understanding of Christian persecution and provoke you to pray for our brothers and sisters with a new found depth.