from Day by Day with the Persecuted Church

As the Father has loved me, so have I loved you. Now remain in my love. (John 15:9)
Menes Abdul Noor
What a privilege to abide in the love of Jesus, so we love Him because He first loved us (1 John 4:19), and love our brothers and sisters in Christ because the love of God has been poured out in our hearts by the Holy Spirit who was given to us (Romans 5:5).
The love of God to us was giving, forgiving, accepting - continuous and sacrificial. The Bible says that God reconciles us to Himself, but it never says that we reconcile ourselves to God, because God was never in enmity with us. Jesus said, "I have called you friends" (John 15:15) because on His part He was full of love to us, though we were enemies of Him.
When we abide in Christ He teaches us His will. He does not call us "servants" for the servant does not know what his master is doing. He only knows the master's orders, but not the master's plan. "The Lord confides in those who fear him; he makes his covenant known to them" (Psalm 25:14). God said to Abraham, 'shall I hide from Abraham what I am about to do?" (Genesis 18:17). Jesus said, "If any one chooses to do God's will, he will find out whether my teaching comes from God or whether I speak on my own" (John 7:17).
Let us love Him with all our hearts; imitate Him and learn from Him.
Copyright [C] 1995 Open Doors International. Used by permission.
Click here to sign up for a free monthly newsletter from Open Doors about persecuted Christians.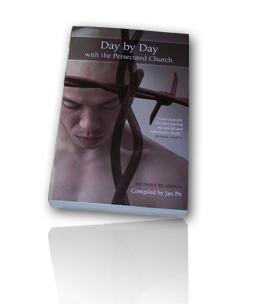 Day by Day with the Persecuted Church
compiled by Jan Pit with a forward by Brother Andrew (paperback, revised 2000)
Compelling wisdom from the pen of actual believers living amidst persecution, you'll be connected to the suffering, courage, and depth of life that exists in the harshest places in the world. Each of these 365 thought-provoking devotions will deepen your understanding of Christian persecution and provoke you to pray for our brothers and sisters with a new found depth.