from Day by Day with the Persecuted Church

If you obey my commands, you will remain in my love, just as I have obeyed my Father's commands and remain in his love ... You are my friends if you do what I command. (John 15:10,14)
Menes Abdul Noor
When we abide in Christ we receive blessings exceedingly abundantly above all that we ask or think (Ephesians 3:20). We experience that Jesus has given us life to live more abundantly (John 10:10).
The Lord reminded the Israelites how He saved them from bondage, and this is why they should have no masters except Himself (Exodus 20:1, 2).
We feel the same obligation, and say, "I have been crucified with Christ and I no longer live, but Christ lives in me. The life I live in the body, I live by faith in the Son of God, who loved me and gave himself for me" (Galatians 2:20).
Whoever receives Jesus accepts His kingship on his life. He knows that he ought to obey Jesus rather than man (Acts 5:29). He asks Jesus, "Lord, what do you want me to do?" (Acts 9:6) Sometimes we say, "Not so, Lord!" (Acts 10:14) If He is Lord of life He should not take a "no" for an answer.
What a blessing for us to receive from Him and obey Him! "Then you will be prosperous and successful" (Joshua 1:8).
Writer of the Month: Menes Abdul-Noor from Egypt. A respected leader of the Christian Church in Cairo.
Copyright [C] 1995 Open Doors International. Used by permission.
Click here to sign up for a free monthly newsletter from Open Doors about persecuted Christians.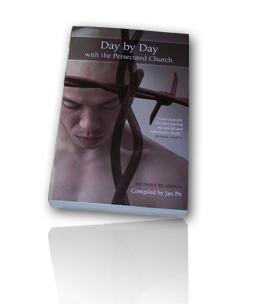 Day by Day with the Persecuted Church
compiled by Jan Pit with a forward by Brother Andrew (paperback, revised 2000)
Compelling wisdom from the pen of actual believers living amidst persecution, you'll be connected to the suffering, courage, and depth of life that exists in the harshest places in the world. Each of these 365 thought-provoking devotions will deepen your understanding of Christian persecution and provoke you to pray for our brothers and sisters with a new found depth.