from Day by Day with the Persecuted Church

...Well done, good and faithful servant! You have been faithful with a few things: I will put you in charge of many things. Come and share your master's happiness! (Matthew 25:21)
Noah
The building of the ark is the longest test of faith recorded in the Word of God. For one hundred and twenty years Noah was a preacher of righteousness which included God's impending judgment. He persevered in his faith though all the circumstances were against him. He did not receive any confirmation that he was on the right track, neither did he get any outsider on his side. What faithfulness, to preach, to evangelize for a hundred and twenty years and not have one convert.
Faith does not look for signs or confirmation. It simply follows God's direction and instructions.
To those who walk by faith God says, "Well done!" Not, good and successful servant, but "good and faithful servant." God does not look for success, but for faithfulness. Then those faithful ones may hear the most beautiful words, "come and share your master's happiness!"
Copyright [C] 1995 Open Doors International. Used by permission.
Click here to sign up for a free monthly newsletter from Open Doors about persecuted Christians.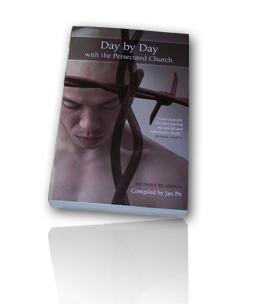 Day by Day with the Persecuted Church
compiled by Jan Pit with a forward by Brother Andrew (paperback, revised 2000)
Compelling wisdom from the pen of actual believers living amidst persecution, you'll be connected to the suffering, courage, and depth of life that exists in the harshest places in the world. Each of these 365 thought-provoking devotions will deepen your understanding of Christian persecution and provoke you to pray for our brothers and sisters with a new found depth.