from Day by Day with the Persecuted Church

I have told you this so that my joy may be in you and that your joy may be complete. (John 15:11)
Menes Abdul Noor
The joy of the world is the result of what people get or achieve. When the getting and achievements end; this kind of joy ends. The joy stays as long as its source remains.
Not so with the joy of Christ. He abides in us and guarantees to us that He gives us not as the world gives us (John 14:27). What He gives is everlasting, guaranteed and full.
When we abide in Christ we find the way, the truth and the life (John 14:6). Of His fullness we all receive, and grace for grace (John 1:16). In Jesus the life was manifested, and we have seen and bear witness, and declare that Jesus is the eternal life who gives us fellowship with the Father and with Himself, that our joy may be full (1 John 1:1-4).
When we abide in Christ we love Him and keep His word. The Father loves us. The Father and the Son come to us and make their home with us (John 14:23). What a privilege and what a joy!
When we abide in Jesus He guarantees to us an eternal abode. He says, "Do not let your hearts be troubled. Trust in God; trust also in me. In my Father's house are many rooms; if it were not so, I would have told you. I am going there to prepare a place for you. And if I go and prepare a place for you, I will come back and take you to be with me that you also may be where I am" (John 14:1-3).
We have all the right to be joyful, because we abide in Christ. All His privileges become ours.
Writer of the Month: Menes Abdul-Noor from Egypt. A respected leader of the Christian Church in Cairo.
Copyright [C] 1995 Open Doors International. Used by permission.
Click here to sign up for a free monthly newsletter from Open Doors about persecuted Christians.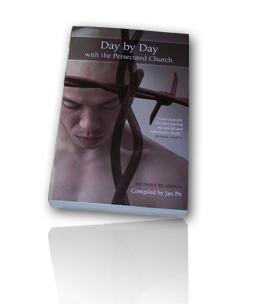 Day by Day with the Persecuted Church
compiled by Jan Pit with a forward by Brother Andrew (paperback, revised 2000)
Compelling wisdom from the pen of actual believers living amidst persecution, you'll be connected to the suffering, courage, and depth of life that exists in the harshest places in the world. Each of these 365 thought-provoking devotions will deepen your understanding of Christian persecution and provoke you to pray for our brothers and sisters with a new found depth.