from Day by Day with the Persecuted Church

This beautiful psalm consists of two parts. In the first part, the writer speaks about the Lord (27:1-5). In the second part he talks to the Lord (27:7-14, see July 21).
David trusts in the Lord his God, who draws near in every desperate situation. Safe under God's protection.
David
The Lord is my light and my salvation - whom shall I fear? The Lord is the stronghold of my life - of whom shall I be afraid?
When evil men advance against me to devour my flesh, when my enemies and my foes attack me, they will stumble and fall.
Though an army besiege me, my heart will not fear; though war break out against me, even then will I be confident.
One thing I ask of the Lord, this is what I seek: that I may dwell in the house of the Lord all the days of my life, to gaze upon the beauty of the Lord and to seek him in his temple.
For in the day of trouble he will keep me safe in his dwelling; he will hide me in the shelter of his tabernacle and set me high upon a rock. (Psalm 27:1-5)
Copyright [C] 1995 Open Doors International. Used by permission.
Click here to sign up for a free monthly newsletter from Open Doors about persecuted Christians.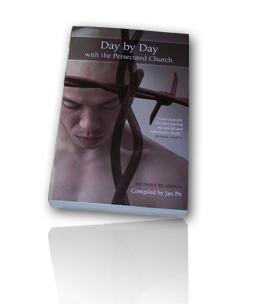 Day by Day with the Persecuted Church
compiled by Jan Pit with a forward by Brother Andrew (paperback, revised 2000)
Compelling wisdom from the pen of actual believers living amidst persecution, you'll be connected to the suffering, courage, and depth of life that exists in the harshest places in the world. Each of these 365 thought-provoking devotions will deepen your understanding of Christian persecution and provoke you to pray for our brothers and sisters with a new found depth.