from Day by Day with the Persecuted Church

...who through faith conquered kingdoms, administered justice and gained what was promised. (Hebrews 11:33)
Mona Khauli
Few people would choose to live a life of danger and risk. Those who do are either professional stuntmen or terrorists, for whom it is a way to make a living.
In our case, however, life at constant risk has been our experience for fifteen years now. Our beautiful country of Lebanon is paying a high price. Terrorism, bombings and shelling of residential areas have victimized thousands of innocent civilians. Our Christian community is being confronted with a great dilemma: flee the country and live in peace elsewhere, or stay to serve the people and accept the risk of getting killed. We have decided to stay and take a stand for our Lord. By serving people in distress and sheltering the displaced we have been able to light their path and motivate their tenacity for survival against the odds.
We experience great danger, but we also experience the presence of our God in a wonderful way. What more can we desire?
Are you faithful in your own situation serving God and men as He directs? In doing so you will experience God's guidance and blessings.
Be available, be grateful, rejoice in the Lord always. Whatever your situation may be. If we can do it - you can.
Pray for peace in the Middle East.
Copyright [C] 1995 Open Doors International. Used by permission.
Click here to sign up for a free monthly newsletter from Open Doors about persecuted Christians.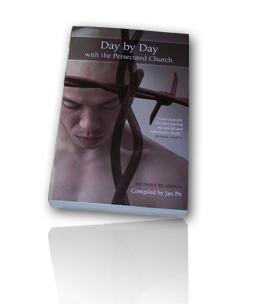 Day by Day with the Persecuted Church
compiled by Jan Pit with a forward by Brother Andrew (paperback, revised 2000)
Compelling wisdom from the pen of actual believers living amidst persecution, you'll be connected to the suffering, courage, and depth of life that exists in the harshest places in the world. Each of these 365 thought-provoking devotions will deepen your understanding of Christian persecution and provoke you to pray for our brothers and sisters with a new found depth.