from Day by Day with the Persecuted Church

I have set my rainbow in the clouds, and it will be the sign of the covenant between me and the earth.
(Genesis 9:13)
Look, he is coming with the clouds, and every eye will see him... (Revelation 1:7)
Noah
Noah lived in one of the most difficult times of history. In a world without God, where people were egocentric and corrupt. "The Lord saw how great man's wickedness on the earth had become and that every inclination of the thoughts of his heart was only evil all the time. The Lord was grieved that he had made man ... and his heart was filled with pain ... But Noah found favor in the eyes of the Lord!" (Genesis 6:5-8). After God's punishment Noah entered a new era in the history of the world, "I have set my rainbow in the clouds ... the covenant between me and the earth." (Genesis 9:13).
The rainbow was a reminder of the past and an assurance for the future, a visible sign of God's promise. Though at the end of this age the earth will once again be destroyed (by fire) mankind lives in a time of grace and promise. Before God will destroy the earth something else will become visible in the clouds - not a rainbow - but the Son of Man. Between Noah's rainbow and Christ's return we can walk with God. That means walking in God's direction. It involves a break with those who walk in the opposite direction. We may belong to the few who walk in His direction, but we have a great crowd of witnesses surrounding us. Men and women who dared take a stand for Christ. Let us therefore run with perseverance with our eyes fixed on Jesus - until we see Him at His glorious return.
Copyright [C] 1995 Open Doors International. Used by permission.
Copyright [C] 1995 Open Doors International. Used by permission.
Click here to sign up for a free monthly newsletter from Open Doors about persecuted Christians.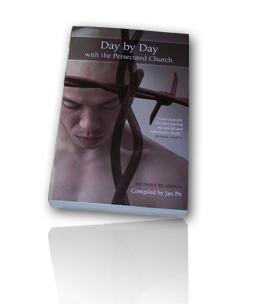 Day by Day with the Persecuted Church
compiled by Jan Pit with a forward by Brother Andrew (paperback, revised 2000)
Compelling wisdom from the pen of actual believers living amidst persecution, you'll be connected to the suffering, courage, and depth of life that exists in the harshest places in the world. Each of these 365 thought-provoking devotions will deepen your understanding of Christian persecution and provoke you to pray for our brothers and sisters with a new found depth.