from Day by Day with the Persecuted Church

...The Lord made him prosperous again. (Job 42:10)
Job
When did the Lord bring a change in the plight of Job? After Job had prayed for his friends.
Friends? They had been more like enemies than friends. They had pushed Job deeper in the mire. They had tried to convince Job with many pious words that his suffering was a result of his own sins. Job had to defend himself (and God!), but his pious friends appeared to know much better.
Job became angry - and God also, "I am angry with you and your two friends, because you have not spoken of me what is right, as my servant Job has." (Job 42:7).
At least four times God referred to Job as His "servant."
This servant, Job, had to pray for his friends; otherwise God would not forgive their sins.
Would you have done that? Pray for people who say they are your friends, but in the hour of need accuse you of all sorts of sins? Perhaps for sins which they have committed themselves and not you?
Job did what God told him to do. He prayed for his enemies - and then the Lord brought about a change in his circumstances.
If Job could remain faithful in spite of his suffering, then there is hope for us. For Job's God is also our God.
"And God is faithful; he will not let you be tempted beyond what you can bear. But when you are tempted, he will also provide a way out so that you can stand up under it." (1 Corinthians 10:13).
Copyright [C] 1995 Open Doors International. Used by permission.
Click here to sign up for a free monthly newsletter from Open Doors about persecuted Christians.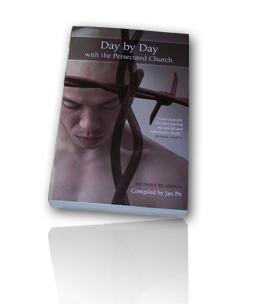 Day by Day with the Persecuted Church
compiled by Jan Pit with a forward by Brother Andrew (paperback, revised 2000)
Compelling wisdom from the pen of actual believers living amidst persecution, you'll be connected to the suffering, courage, and depth of life that exists in the harshest places in the world. Each of these 365 thought-provoking devotions will deepen your understanding of Christian persecution and provoke you to pray for our brothers and sisters with a new found depth.