from Day by Day with the Persecuted Church

Be joyful always; pray continually; give thanks in all circumstances.  (1 Thessalonians 5:16-18)
Yang Zhang
When I was studying theology the Rev Chia was our principal. A very humble man and devoted to prayer. Prayer had become so much a part of his life that you could always call upon him to pray for you in times of need.
I remember a time when I visited him, together with some other students. During our conversation he would, unintentionally, close his eyes and pray for us.  We all felt so humble and small in his presence. This man taught me to pray, not by what he said about prayer, but by the way he prayed.  When he prayed he was in touch with God.
But I also learned that the Rev Chia was not special. God is special. He has no favorites. All of us are called to pray and be in touch with God. Whenever I think of the Rev Chia I pray this prayer, "Lord teach me how to pray."
Writer of the Month: Yang Zhang from China. A fiery evangelist from China writing under a pseudonym for his protection.
Copyright [C] 1995 Open Doors International. Used by permission.
Click here to sign up for a free monthly newsletter from Open Doors about persecuted Christians.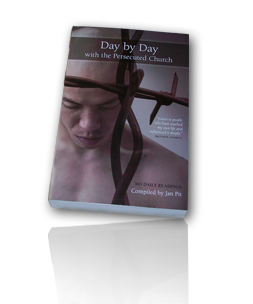 Day by Day with the Persecuted Church
compiled by Jan Pit with a forward by Brother Andrew (paperback, revised 2000)
Compelling wisdom from the pen of actual believers living amidst persecution, you'll be connected to the suffering, courage, and depth of life that exists in the harshest places in the world.  Each of these 365 thought-provoking devotions will deepen your understanding of Christian persecution and provoke you to pray for our brothers and sisters with a new found depth.
 To order your copy of this devotional, click